Traditional Metal Braces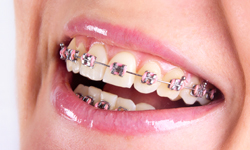 Traditional metal braces are the most common type, and are more comfortable today than ever. Made of high-grade stainless steel, metal braces straighten your teeth using metal brackets and archwires. With metal braces, you have the option of adding colored elastics (rubber bands) for a more unique and colorful smile.
Clear (Ceramic) Braces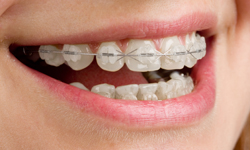 Ceramic braces are made of clear materials and are therefore less visible on your teeth than metal braces. For this reason, ceramic braces are used mainly on older teenagers and adult patients who have cosmetic concerns.
While they are visually less prominent, they require more attention to oral hygiene because ceramic braces are larger and more brittle than their metal counterparts. For these reasons, ceramic braces tend to be used more on upper front teeth than on lower teeth.
Clear Aligners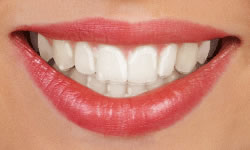 Clear aligners are a series of invisible, removable, and comfortable acrylic trays that straighten your teeth like braces. Not only are the aligners invisible, they are removable, so you can eat and drink what you want while in treatment; plus, brushing and flossing are less of a hassle. The aligners are comfortable and contain no metal to cause mouth abrasions during treatment.
Smart Wire
INBRACE Your New Smile!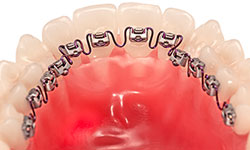 INBRACE revolutionary lingual braces provide the perfect balance between the ideal quality of your straightened smile and aesthetics while you straighten it. Placed behind your teeth, INBRACE braces offer the reliability of traditional braces with the cosmetic benefits of clear aligners. Plus, the unique interdental loops in our patented INBRACE Smartwire allow for normal brushing and flossing for improved oral hygiene.
Invisible Tooth Straightening
INBRACE lingual braces offer an invisible tooth-straightening experience unlike any other. While ceramic brackets blend in with the color of your teeth and clear aligners use discreet clear plastic, INBRACE braces are completely hidden behind your teeth. There's no better aesthetic option than that!
Efficient Treatment
INBRACE embraces efficient tooth movement with our Smartwires to minimize the tooth movement required to achieve your smile. This efficiency can reduce treatment time by months or even years!
Safe Tooth Straightening
Our patented self-driving Gentleforce technology delivers consistent force over the entire course of treatment, allowing the body time to maintain healthy bone, roots, and gums.
More Comfort
INBRACE Gentleforce technology gently guides your teeth to their ideal position. This means no more painful tightening appointments and no more mouth abrasions from traditional brackets and wires.
Shorter Appointments
Our flexible interdental loops make wire insertion behind the teeth a snap, so your wire change appointments will only take about five minutes.
Start your smile journey with INBRACE!
Getting started with INBRACE is easy! First, schedule an appointment for an initial consultation. Next, your orthodontist will take a digital scan of your teeth, often at the same initial appointment. Four weeks later, you'll return to your orthodontist's office for your customized, INBRACE Smartwire, and your journey to a better smile will begin!