Meet
Dr. Bella Shen Garnett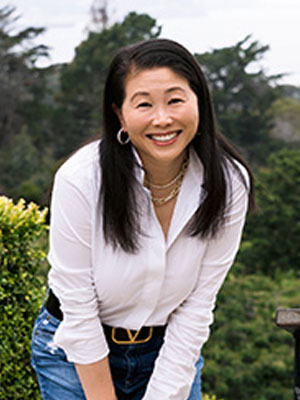 A graduate of Stanford University and the Harvard School of Dental Medicine, Dr. Bella Shen Garnett is among the few board-certified orthodontists and Angle Society members in San Francisco. She stands out among her peers-she is not only the most experienced Invisalign doctor in San Francisco, she lectures nationwide and internationally. She also actively participates in studies and research to help the Invisalign technique continue to advance. Dr. Garnett is the top Invisalign® provider in San Francisco/Marin. She is also a Diamond Plus Invisalign Provider and among the Top 1% Invisalign providers in all of North America. In 2016, Dr. Shen Garnett was voted by her peers as the Invisalign Case Shoot-out Winner!
Dr. Bella Shen Garnett was born in Hong Kong and is a native of San Francisco. She attended the Burke's School, San Francisco University High School, and Stanford University. She graduated cum laude from the Harvard School of Dental Medicine, and continued her residency there to earn a Master's in Medical Science. She lives in San Francisco with her husband Eben and their daughters Maisy and Lucy.
An avid philanthropist, she has done volunteer work every week for the past 25 years. While completing her program at Harvard, in 2000 Dr. Shen Garnett founded Project Bridge, a dental clinic and volunteer program that provides dental care for runaway teens, which was recognized with the prestigious Community Preventive Dentistry Award 2005 presented by the American Dental Association.
Achievements and Awards
American Academy of Dental Practice Administration Awards of Academic Achievement, 2001
American Student Dental Association Award of Excellence in Leadership and Service, 2001
Harvard Medical School Dean's Community Service Award
Katherine Delmar Burke School Alumnae of the Year, 2005
Soma Weiss Research Scholarship and Internal Research Fellowship from Harvard Medical School
Invisalign Case Shoot Out Finalist, 2007
Top 1% Invisalign provider
Invisalign Case Shoot Out Winner 2016
Professional Affiliations
Associate Professor at the University of the Pacific
Lecturer for Propel Orthodontics
Clinical Advisory Board for Align Technology
Lecturer for Invisalign
Lecturer for Orthopulse
Clinical Advisor for Two Front
Diplomate, American Board of Orthodontics
Member of the Angle Society
Harvard Society for the Advancement of Orthodontics
American Association of Orthodontists
American Dental Association
California Dental Society
Pacific Coast Society of Orthodontists
San Francisco Dental Society